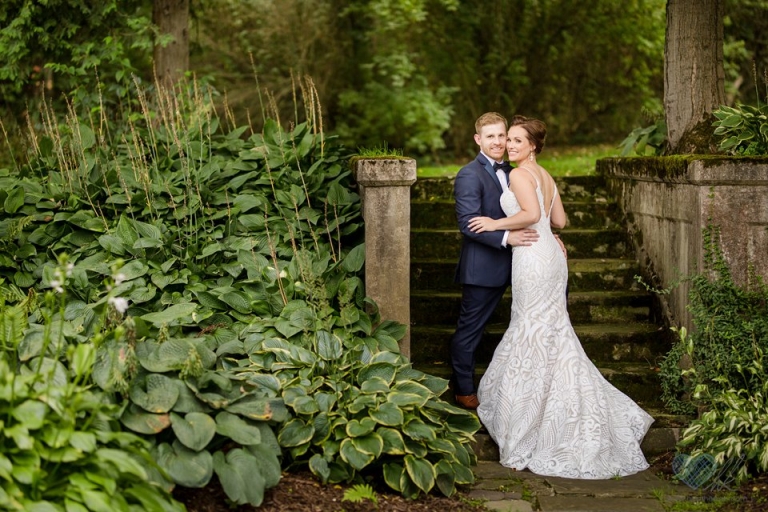 Stacy writes:
"Justin planned a wonderful proposal. My birthday is in March and he told me he had a special date planned the weekend after. Now, my BFF also has a birthday in March, and she and I ALWAYS have a girls day the same weekend Justin planned the big date night. As a compromise, she agreed to just do a spa morning before Justin and I went out. So…that Saturday I woke up and met Rachel where we got our hair and nails done. After, I came home and got ready. We jumped in the car and started driving to the mystery location. Finally, we parked and got out in down town Royal Oak We walked to Lily's Seafood where Justin had made reservations, and when they walked us to our table, the table was set up for 10! Slowly, 8 of my best friends came around the corner and joined us.

After dinner, Justin said the birthday celebration wasn't over, and he led us all to The Great Escape–a place where you and your friends get locked in a room and have to find the way out!. We ended up playing a Sherlock Holmes version of the game where we had to discover clues, put the clues together and solve a series of puzzles in order to get out of the locked room. Once we figured out all of the initial puzzles, we were given a key that unlocked a safe that held the final puzzle to get out. As the Birthday girl, I was selected to unlock that safe. As I unlocked the safe, and opened the door….there was the ring box!!! Of course, I grabbed it, turned around, and there was Justin on his knee.

The birthday surprise was our engagement…and to boot, he had been in cahoots with Rachel and together they planned the spa morning so that my hair and nails looked great for the night :-)"
This post features my favorite photographs from Stacy and Justin's
Intimate Wedding at the English Inn!
Want to see them all?
Head over to the full gallery right here to view or purchase prints/files from among all the photographs!
–
Thank you so much to all the vendors who made this day special!
–
Wedding Planner / Day-Of Coordinator: Adriana Flinn – The English Inn
Ceremony and Reception Venue: The English Inn
Hair and Makeup: Erin Wichman – The Artisan Company Salon
Cake: A Piece o' Cake
Music: White Pines Entertainment