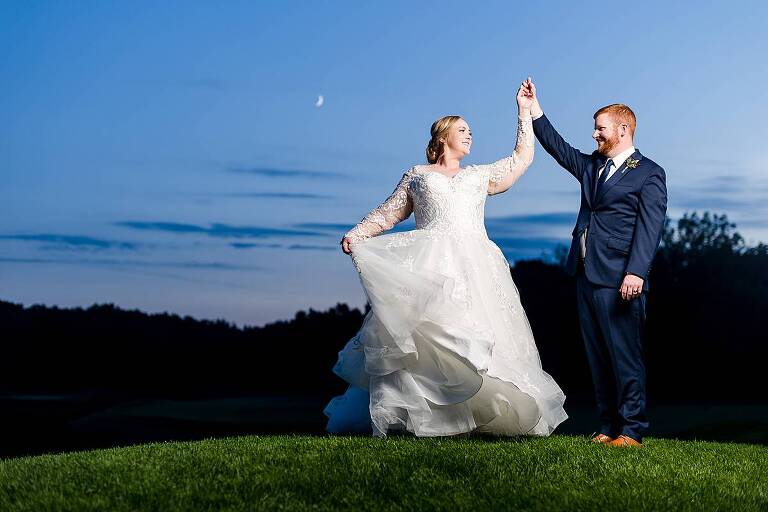 Over the last 18 years, I've photographed many golf course and country club weddings, and I can tell you from experience that not all of these venues are created equally!
The typical golf course will have you get married over the 9th hole or spend half an hour on a golf cart riding to the one lonely, sad tree where they allow portraits (after the golfers finish, of course). 🙄 They may have manicured lawns stretching on and on, but where is the personality? Hard pass.
But sister venues Hawk Hollow Golf Club and Eagle Eye Golf & Banquet? They're anything but typical.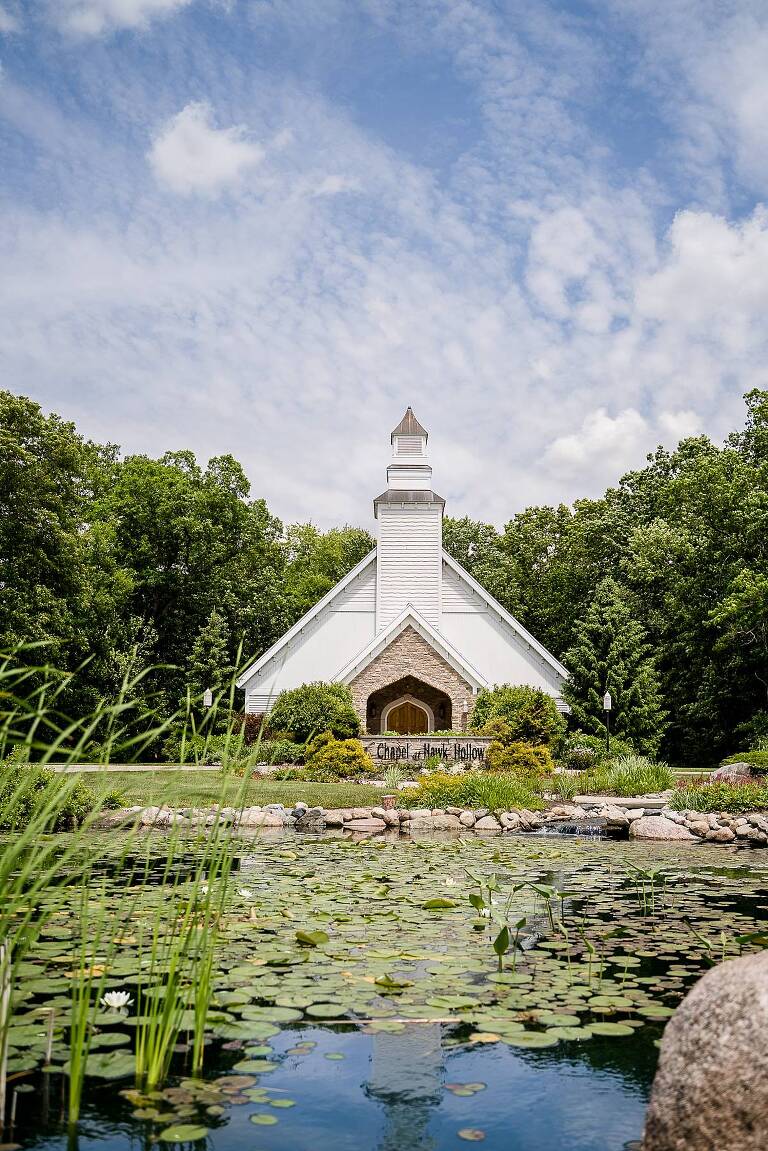 Hawk Hollow Golf Club | Eagle Eye Golf & Banquet
There's many reasons Hawk Hollow Golf Club and Eagle Eye Golf & Banquet are my recommendations for anyone looking for that country club vibe in East Lansing (minus the monotony). A major perk to booking either is that they are right across the street from each other, which gives you access to the grounds of both- plus they are under the same highly skilled ownership/management.
We're talking on-site catering with amazing menus (I'm obsessed with their bread), pro staff that knows all the ins and outs of both properties, linen rentals, bartending, and more — all provided in-house.
Both venues offer bright, spacious rooms for dancing the night away, you know how I love capturing those "getting down on the dance floor" shots!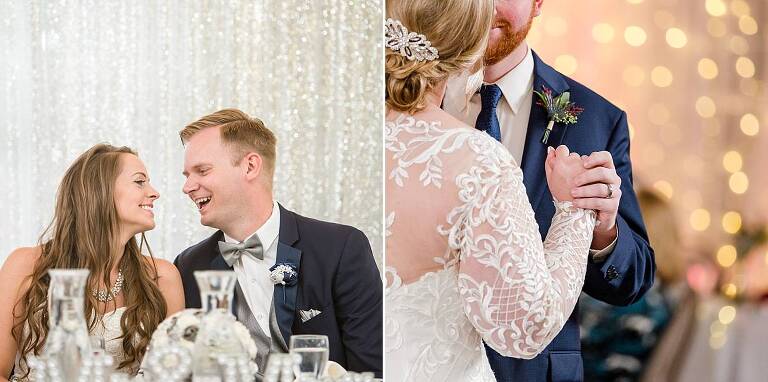 The highlight of these reception spaces is the well-done-yet-understated design, giving you the ability to create the wedding of your dreams that also showcases your personal touches. I love that many of my couples have opted for draping and/or twinkle lights to compliment the headtable's space- it adds SO much to the images!
Read on for my favorite details that I've learned over the years photographing weddings at both Hawk Hollow and Eagle Eye!
The Hawk Hollow Golf Club: Classic Wedding Chapel
The stand-out ceremony spot at Hawk Hollow is the chapel. Non-denominational and adorable, if it's the classic church wedding backdrop you're after, you want to get married at Hawk Hollow.
I appreciate the thoughtful details included in their cozy getting-ready suites, they're the cutest! From small bowls of mints, portable packs of tissues to grab for later, hair products you may have forgotten, cute decor touches, to a third getting ready space just in case your bridal party needs some extra elbow room while getting ready.
When a venue really cares about your experience and takes time to really think about the little things that they can do to make your wedding day better, you feel it. That's Hawk Hollow and Eagle Eye! 🧡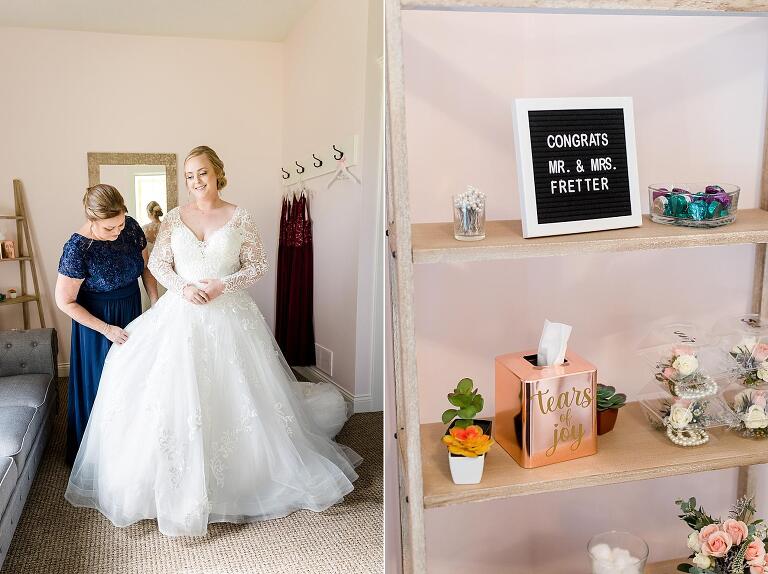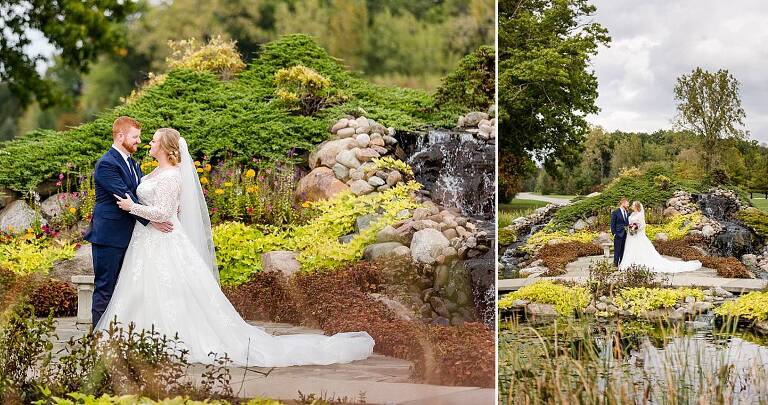 Once you're ready for your big moment, step out front to a stunning waterfall surrounded by lush greenery that cascades to the small pond, while the rock backdrop blocks out the world. It makes for a gorgeous "just married" photo- and is the perfect spot to stop, BREATHE, and take in one last quiet moment before the bustle of the reception.
Speaking of portraits, I will never get over the grounds at Hawk Hollow!! They've carefully created spaces that skip the perfectly-boring-manicured-putting-green-vibe, making it feel more like you stumbled upon a magical meadow clearing in the woods.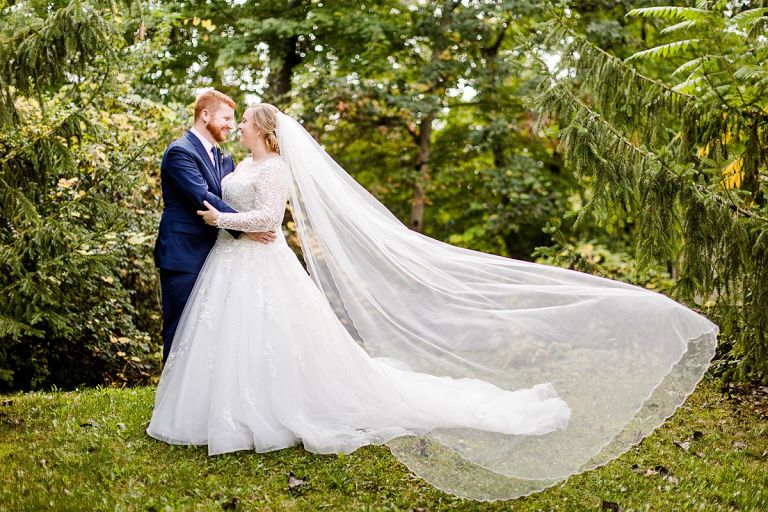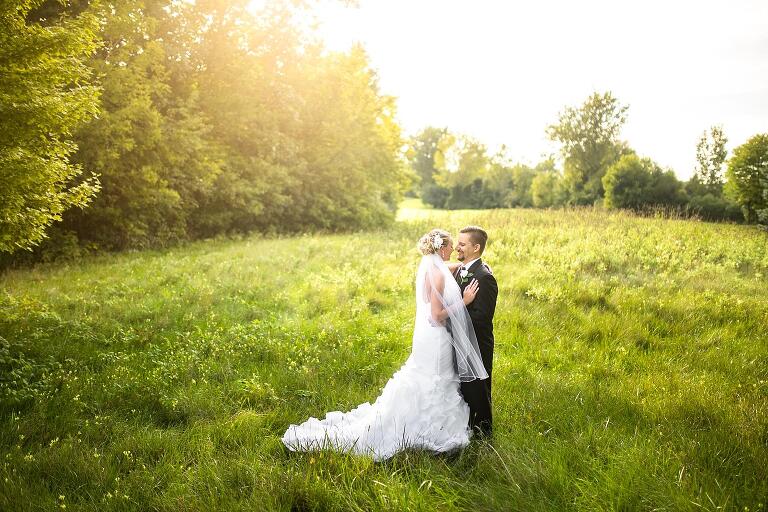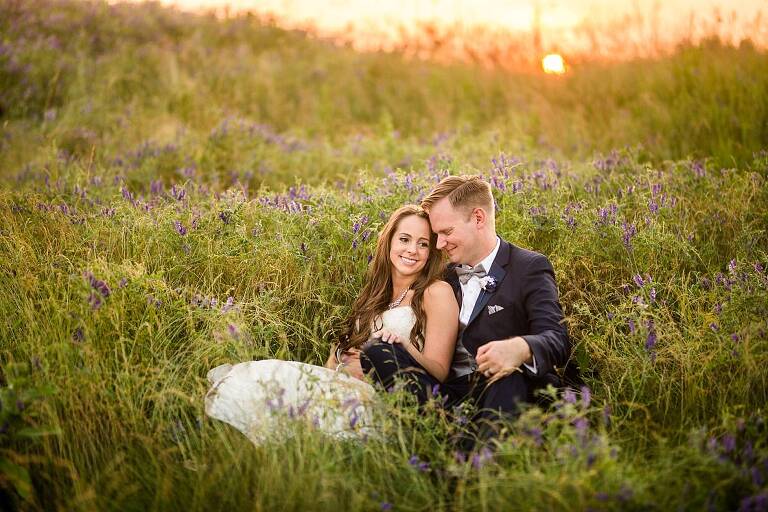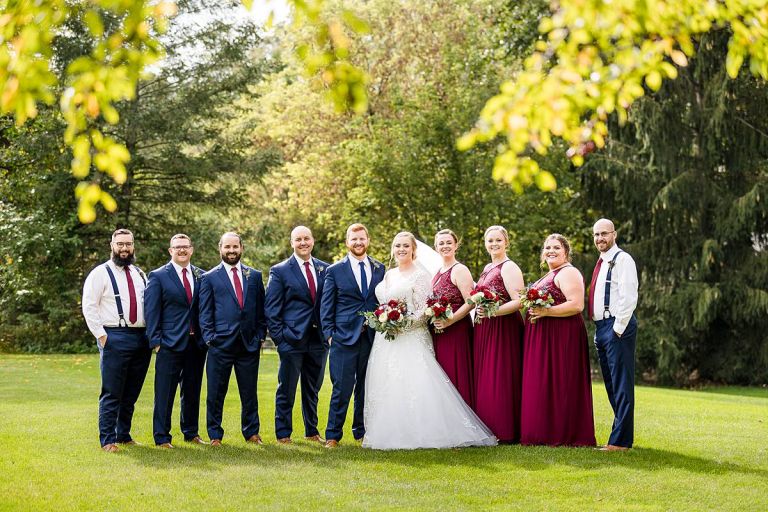 Every single time of the year, you'll enjoy a perfect East Lansing backdrop: you'll be surrounded by flowers as you're nestled in the long grass at sunset in springtime, or framed by an explosion of fiery red and orange foliage behind your wedding party portraits in the fall.
While your wedding photographs will feel and look as though we took a long hike to that perfect meadow clearing, you're actually just a few steps away from a well-kept paved path, which makes it accessible to all. ✌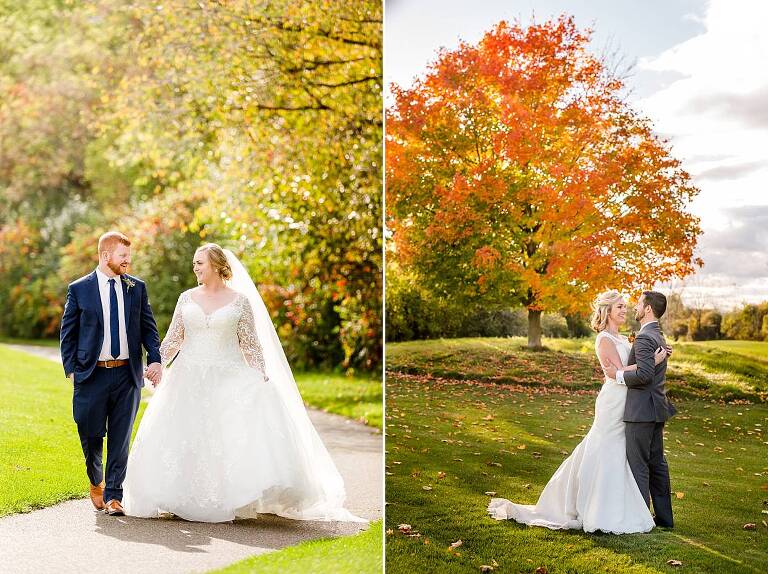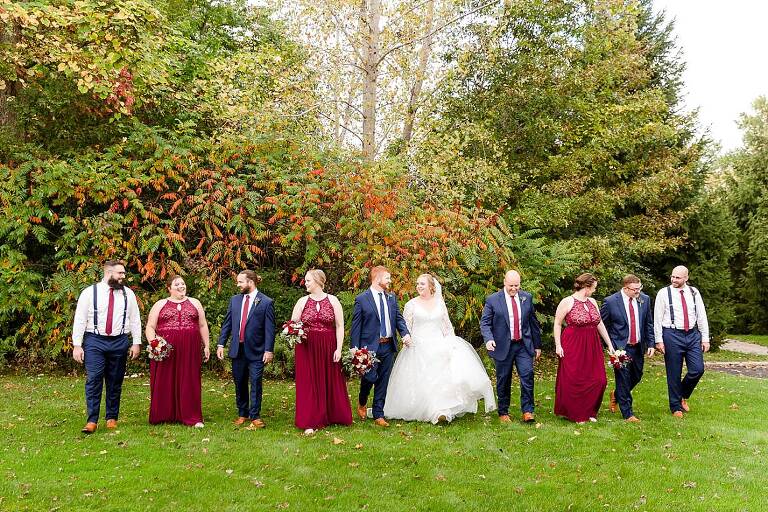 Want to see more? Click here to check out Hannah and Nick's fall wedding photographs at the Hawk Hollow Chapel and Hawk Hollow Clubhouse Ballroom (top floor), or Alicea and Brandon's wedding reception photographs at the Hawk Hollow Clubhouse Ballroom (top floor).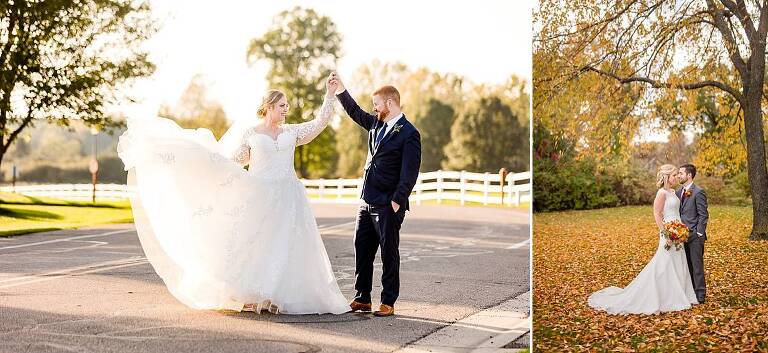 Everything at Hawk Hollow is incredibly well planned out for convenience, including a seemingly endless supply of on-site parking for your closest 250 to 500 friends. 😉
Post ceremony, live it up in one of the Hawk Hollow banquet rooms in the two-story clubhouse! All of their reception spaces can fit up to 500 guests, with large windows and semi-private outdoor spaces for cocktail hour or a breakout space while everyone mingles and enjoys the view of the lake.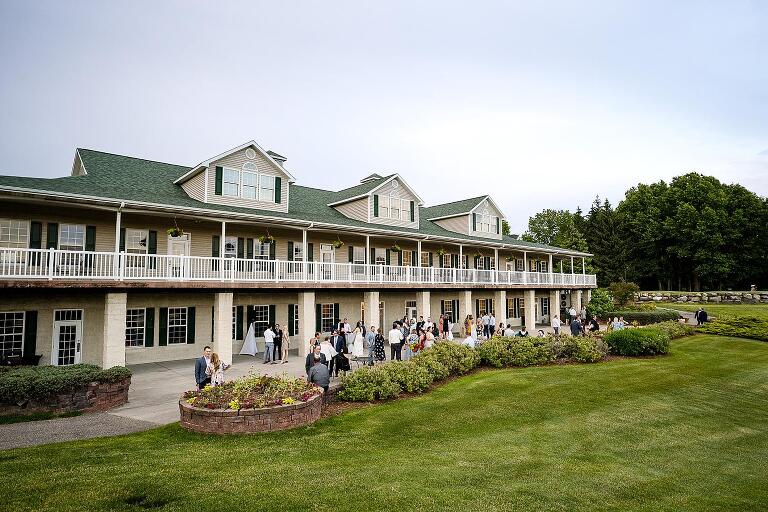 Want to see more? Click here to check out Colton and Patricia's wedding photographs at the Hawk Hollow Chapel and Clubhouse (first-floor ballroom)!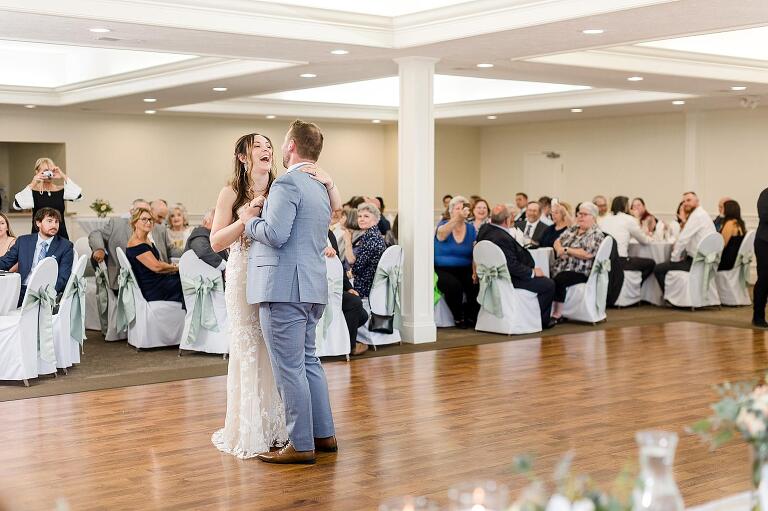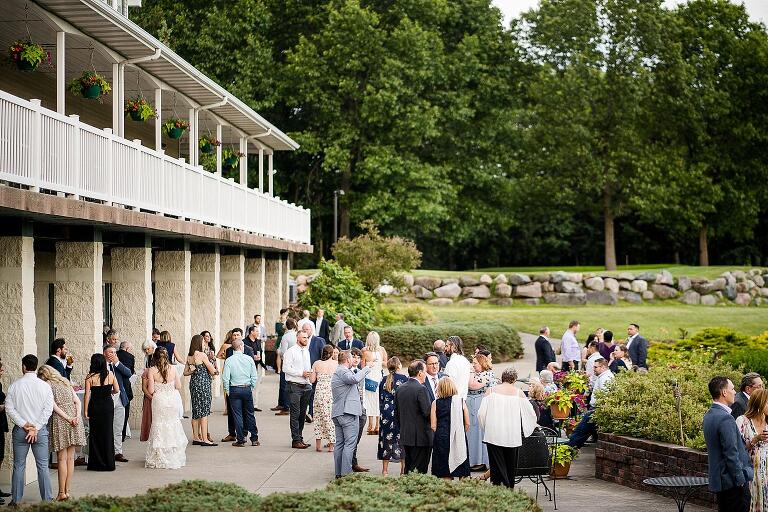 While some might hesitate to book a venue that hosts multiple weddings at the same time, I can tell you from experience that is not something you have to worry about at Hawk Hollow! The banquet spaces are completely separate, so you won't even see the other couples or their guests as you're dancing the night away. 
Eagle Eye Golf & Banquet: Garden Ceremony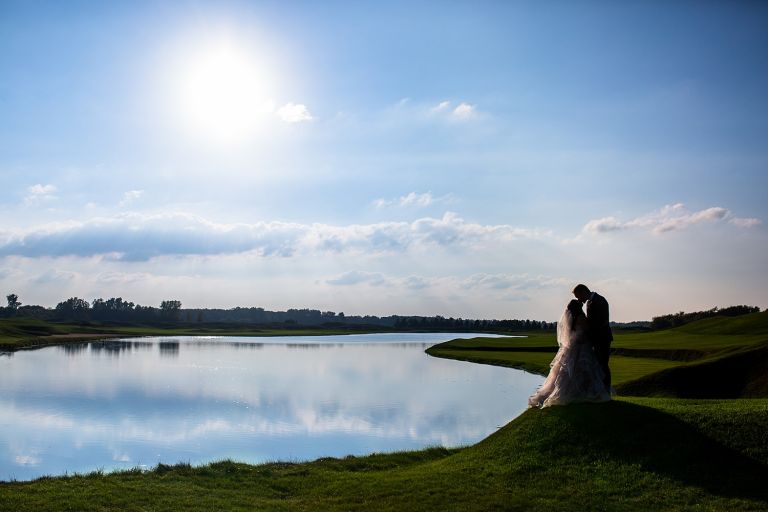 If you and your betrothed are set on a garden ceremony, you will adore the Wedding Garden at Eagle Eye. With space for up to 300 as you speak your vows, it feels as though you're in a secluded garden away from it all, walking down the aisle to a beautiful arbor you can adorn with gorgeous greenery, or keep simple with draped fabric fluttering in the breeze.
Colorful blooms surround you at Eagle Eye, with a backdrop of trees and an array of greenery balanced to look both perfectly planned and naturally effortless. This ceremony space never disappoints! 
The garden is one example of the amount of care put into creating Eagle Eye as an East Lansing wedding venue. It doesn't feel like a golf course that up and decided they would host weddings, but a wedding venue that just so happens to also be a golf course.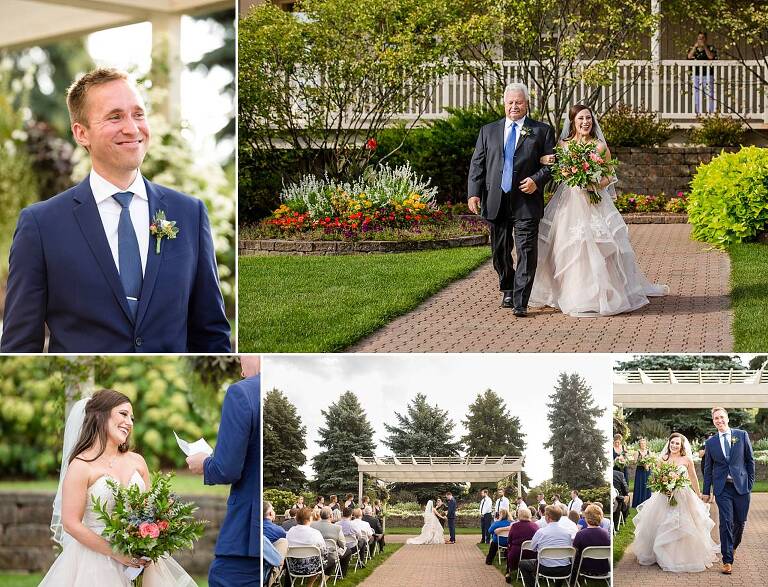 Want to see more? Click here to check out Katelyn and Caleb's wedding photographs at the Eagle Eye outdoor ceremony space and wedding reception at the Eagle Eye Banquet Hall!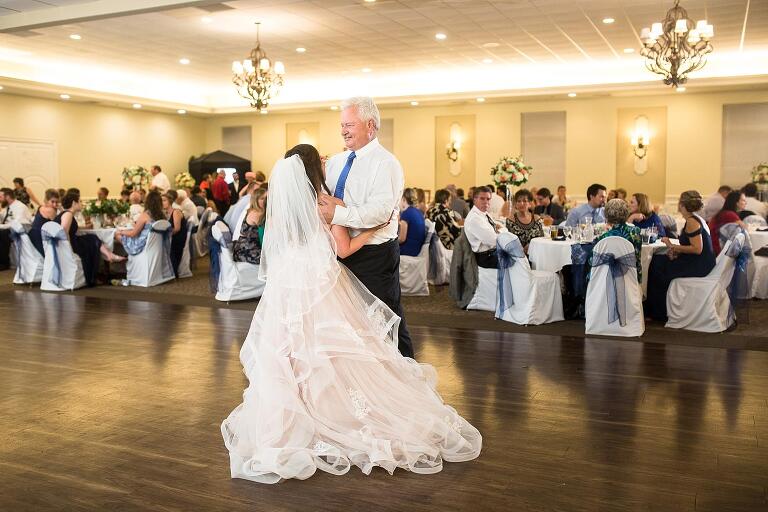 Bathrooms are conveniently located (but out of sight in the hallway) and all the spaces they've created for both ceremony and reception are ADA accessible so that everyone can enjoy celebrating with you without worrying if the path is too far, too bumpy, or if the doorways are too narrow. 
After you seal it with a kiss in the garden, you are going to love the elegant, spacious clubhouse. Featuring two stories with 45,000 square feet of banquet space, you have four different rooms to choose from at Eagle Eye, each with outdoor access on the ground floor or via the wrap-around deck.
You'll have all the conveniences you could want at your fingertips while still feeling like you're out in the countryside, instead of in the middle of a golf course.
The views are spectacular, with rolling hills leading down to the west-facing pond. (ummmm.. Can you say GORGEOUS FREAKING SUNSET SHOTS?) 
Whether the pond shimmers with sunshine behind you during the day or reflects the magical sunset at night- your wedding photographs at Eagle Eye or Hawk Hollow are going to SING.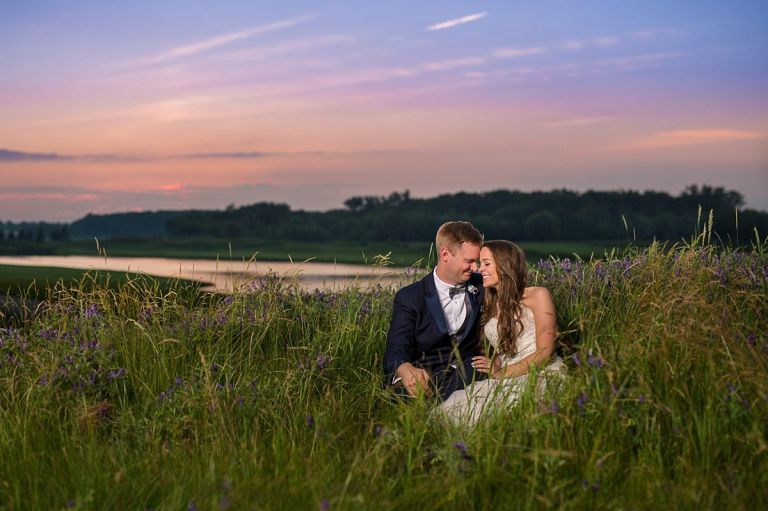 Want to see more? Click here to check out Dan and Shaina's wedding reception and sunset photographs at the Hawk Hollow Banquet Hall!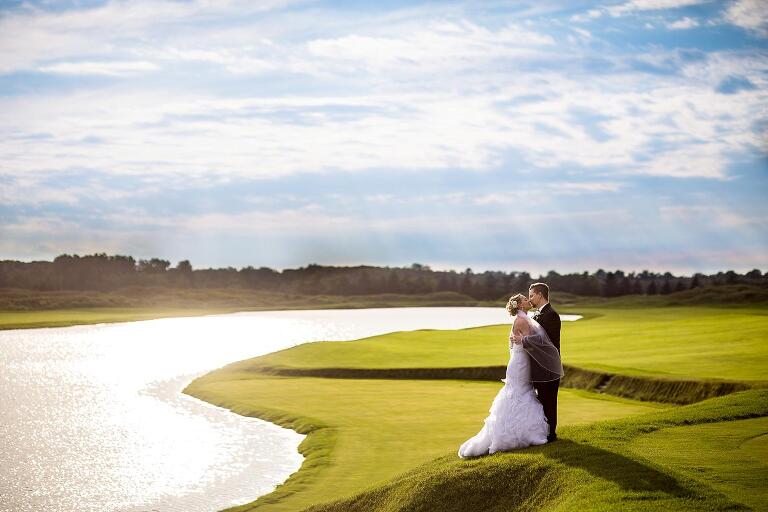 The Perfect East Lansing Venues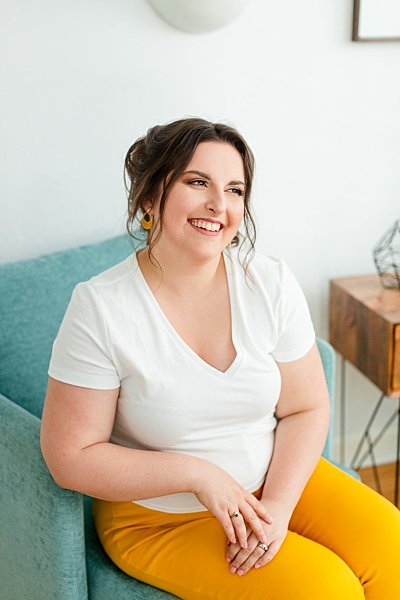 To sum it up: when you choose to get married at either Hawk Hollow or Eagle Eye, it's a slam-dunk decision.
Both sister wedding venues feature unique spaces for your "I dos," and beautiful reception spaces that are blank canvases to make your own. And with me by your side as an experienced wedding photographer who can guide you throughout the grounds, you're in for the best day ever! 🤩
Soooo are you looking for an East Lansing wedding photographer? Do you want a FUN but BOSSY photographer who will make sure you look amazing and feel 10000% comfortable in your photographs? I just might be the one you're looking for. Let's connect!
Oh! And there's one more thing you should know: When I say that these are some of my very favorite venues to shoot at, I mean it. In fact, I love these venues so much that when you book me for your Hawk Hollow or Eagle Eye wedding, you're going to receive an exclusive, totally complimentary gift in your package: a BIG, vivid, gorgeous metal print (worth $350!) to show off your favorite wedding photo!
At 20×30 glorious inches, this metal print is the king of rich, bold color with just the perfect amount of shine to catch the eye while hanging on your wall.  You're going to LOVE walking past this stunning modern classic hanging in your home. Check it out below!