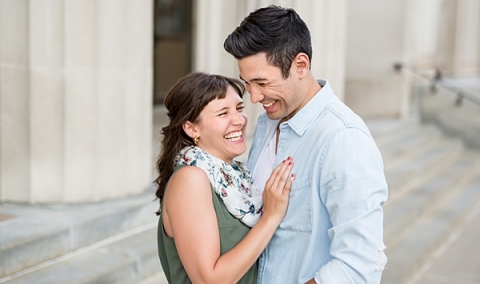 "I'm SO glad that we had an engagement session with you! My fiance said that he had WAY more fun than he thought he would! He was kind of "meh" about photos, but you won him over."
"I was worried about feeling awkward in our wedding photos, but now that we had the engagement session with you and saw how fun it was to work with you, I'm super excited for the wedding photos, too!"
"Thank you for making us do an engagement session! It was so nice to take our time off from the stress of wedding planning and just be able to hang out together and laugh."
Want to know a secret?
You may have taken a million selfies or half-heartedly said "cheese" to mom a million times growing up.
But you've never been photographed like THIS.
I do things differently. From beginning to end, I make it super simple and FUN to be photographed. How?
Well, basically, I'm a bossy-pants. 😉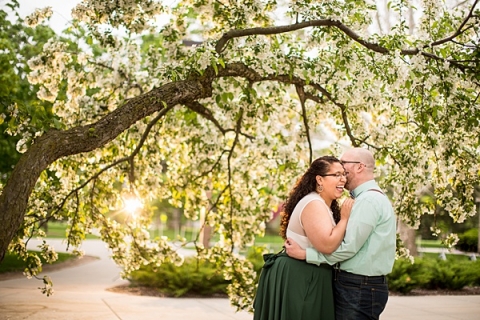 I start by using simple posing directions to flatter your body type. Then I unleash the real magic: I use prompts and simple games to make you completely forget that you're being photographed. 
Over the last 15 years, I've accumulated a vast knowledge of just what to say (and how to say it) to get a real laugh or a truly connected romantic moment. I read people uncommonly well- and I use that ability to make you feel totally at ease. 
And there's something else that's important: an engagement session builds your trust in me.
To really be your best self in your photographs, trust is incredibly important. It helps you to hand over the photography to me and not carry around stress or fear about how you'll look in- and feel about- your photographs. That's a magical thing. 
In between shots, we get to know each other. As I learn more about the two of you, we build a connection that makes your wedding photographs the best they can be.
..also I'm going to make you bring your dog if you have one, because I want to snuggle them. (more on that here!)
Because engagement sessions are this powerful, I include them as a free gift with many of my wedding packages. <3
Engagement sessions are typically done in the Lansing area. I have a ton of beautiful "secret spots" to fit the look that you're imagining, from cityspaces and alleyways to open fields and forests. Many of my couples choose to incorporate something meaningful to them into their session: an activity, sport, or hobby or a location that played a part in their history together.
Locations outside of the greater Lansing area are available for a small travel charge- I often shoot in the Brighton or Detroit area and even Grand Haven! 
Sessions are available mid-week and are flexible in time of day (the hour before sunset is the very best for gorgeous, flattering light!).
Most of the time they're about an hours long, and you're welcome to change outfits during the session for more variety if you like. I send my couples a helpful style guide to help you choose the perfect outfits!